➕  The good bits 

Plenty of poke from the smooth single

Serious lack of weight

High-quality bits throughout

➖  The not so good bits

High seat height

Plank of wood, masquerading as a seat

Useless fuel gauge
What is it?
Husqvarna motorcycles aren't exactly what you'd call a household name in Australia. You're probably more likely to see a Husqvarna lawn mower or sewing machine than a Swedish motorbike, which is a shame. Just one look at their Vitpilen and Svartpilen range tells you pretty much everything you need to know about these bikes and Husqvarna as a brand. They're simple, stylish, and pack a punch.
The bike we have here, a Svartpilen 401, is the scrambler cousin to the Vitpilen 401 cafe racer. I'd usually be a bit squirmish about using the S-word (or the C, F-words for that matter) about a standard bike but it feels right with these little Husqvarnas. To the untrained eye, these little bikes look like a well put together custom, and when I say scrambler I mean it in the original sense of the word. When people took their road bike and modified them just enough to handle the path less trodden.
The Svartpilen's 'scramblerisation' has seen the Vitpilen's wrist-crushing clip-ons replaced with a set of braced handlebars mounted to new triple-clamps, a tank rack has sprouted from the bodywork and a bash plate now hangs under the engine. There's also a slightly different seat and black, instead of white paint. This colour change aligns with the bike's Swedish names, with Svartpilen translating to black arrow and Vitpilen…well, you get the picture.
Husqvarna has given the Svart and Vitpilen a 2020 refresh but this bike is a 2018 model, purchased brand-new this year. The fact that you could buy a 2-year old bike brand new shows you what people thought of Husqvarna's slightly optimistic pricing at launch, of around $12,000 (on-road). Unsurprisingly, a $12,000 sub-400cc, single-cylinder motorbike didn't exactly rush out the door. The good news is Husqvarna saw fit to drop the price to more palatable $7500 (on-road) recently, which has seen new and old riders cotton on to what is a unique and quality package.
So, while you can't get yourself a Svartpilen 401 brand new that looks exactly like this, the 2020 refresh hasn't strayed too far from the original (check it out here). With that in mind, let's look at what makes the Svartpilen 401 tick…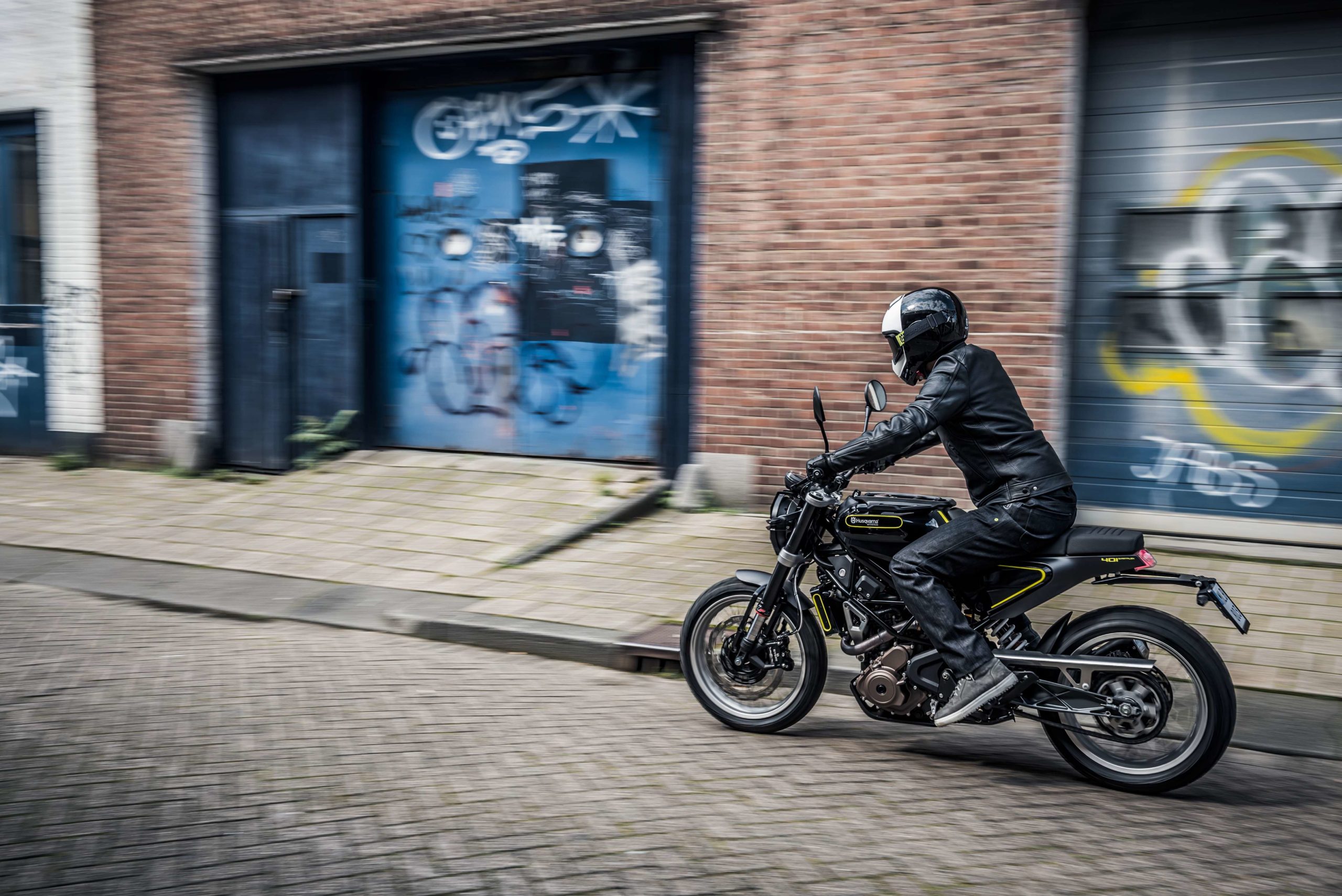 Engine and gearbox
The 401 Svart and Vitpilen are mechanically almost identical to both each other and the KTM 390 Duke, which is no bad thing. With Husqvarna owned by KTM, the shared components (and there's plenty) are no surprise. The surprise is just how different the little Husqvarnas are to their KTM kin despite the close relationship. 
The KTM running gear means you get a 373cc single-cylinder, making 32kW @ 9000rpm and 37Nm @ 7000rpm. The little-single loves to rev and remains smooth all of the way to its 10,000rpm rev limiter. I don't just mean smooth for a single-single either. The Svartpilen sits in its sixth gear on the freeway at 110km/h (cough, 120+km/h, cough) with no uncomfortable buzz through the bars, seat, or pegs. 
The gearbox is smooth and does its job with no false neutrals. The only slight negative is the relatively tall gearing, with sixth gear only coming into the fray when you're over 100km/h. Of course, this really depends on how you plan on using the bike. With my riding roads an hour slog away from home, with plenty of freeway time, the tall gearing works well.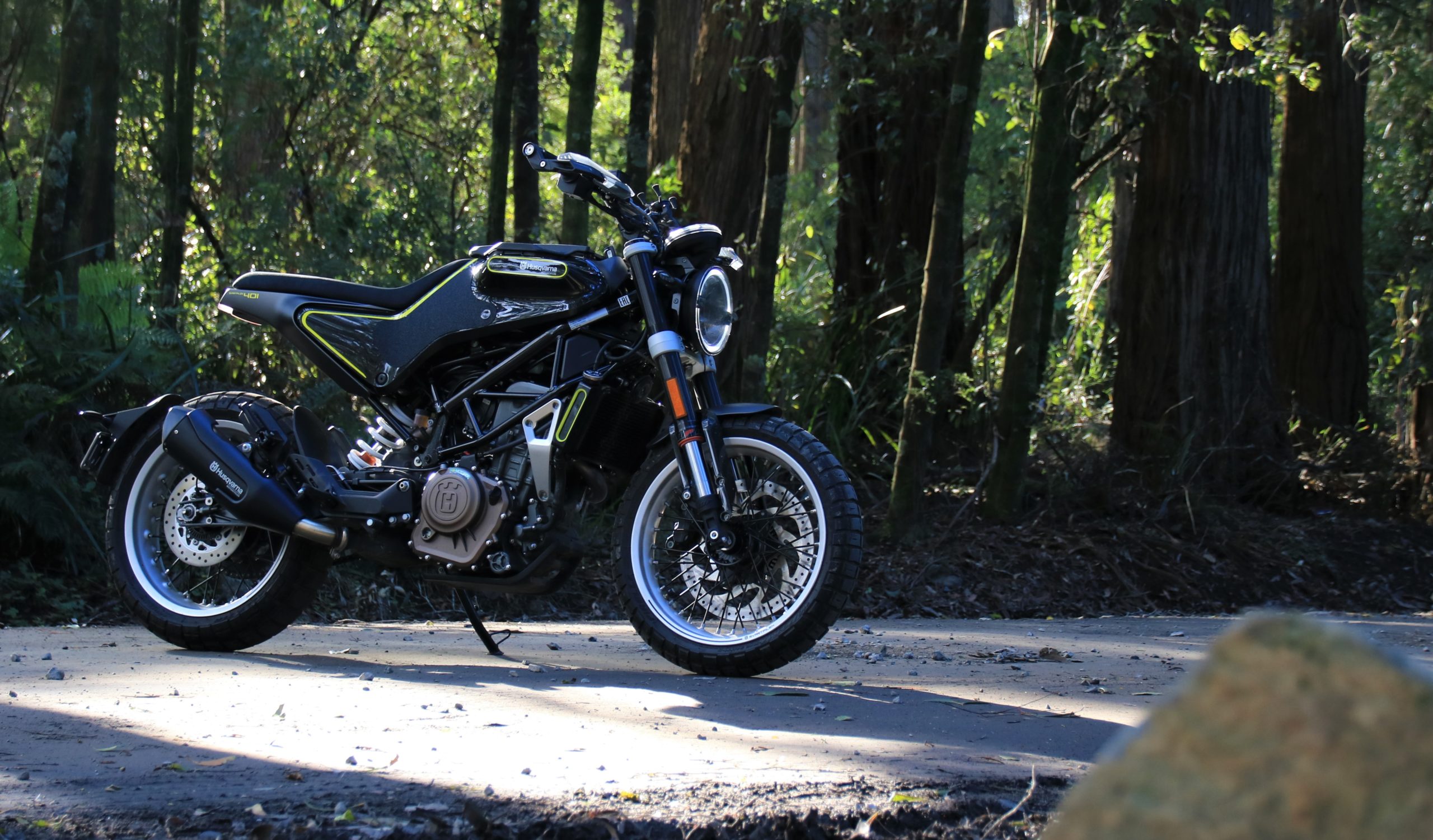 Brakes and handling
There's not a lot to the Svartpilen and that's part of the charm. The fact that the Svartpilen feels light is probably due to the fact it only weighs 150kg. Sure, this is the dry weight, but a nine-litre fuel tank and a couple of litres of coolant and oil aren't going to add that much. In fact, the Svartpilen's lightness can be a little unsettling at first, with turn-in a little sharper than expected.
The weight, or lack of it, means a single front and rear disc and caliper from BYBRE, which is Brembo's small bike brand, is all that's needed to pull the bike up. The brakes are powerful enough and there's ABS on-hand to watch over you. While the brakes are powerful and the ABS rarely gets involved (unless you're a bit ham-fisted) the front brakes are a little squealy when cold. The ABS is also a permanent feature. People on the internet say you can switch it off by mashing buttons on the dash in a particular order but I've never been able to do so. So either I'm an idiot or people on the internet are lying…or both.
Suspension is as you'd find it in a KTM — 43mm upside-down forks up-front and a single shock out back, connected directly to the swingarm with no linkage. Neither ends are adjustable but the WP-branded bits do an admirable job, with just the front forks feeling too softly sprung, particularly under braking. It's worth noting that I'm about 75kg in riding gear, so this soft front suspension will get worse with extra weight.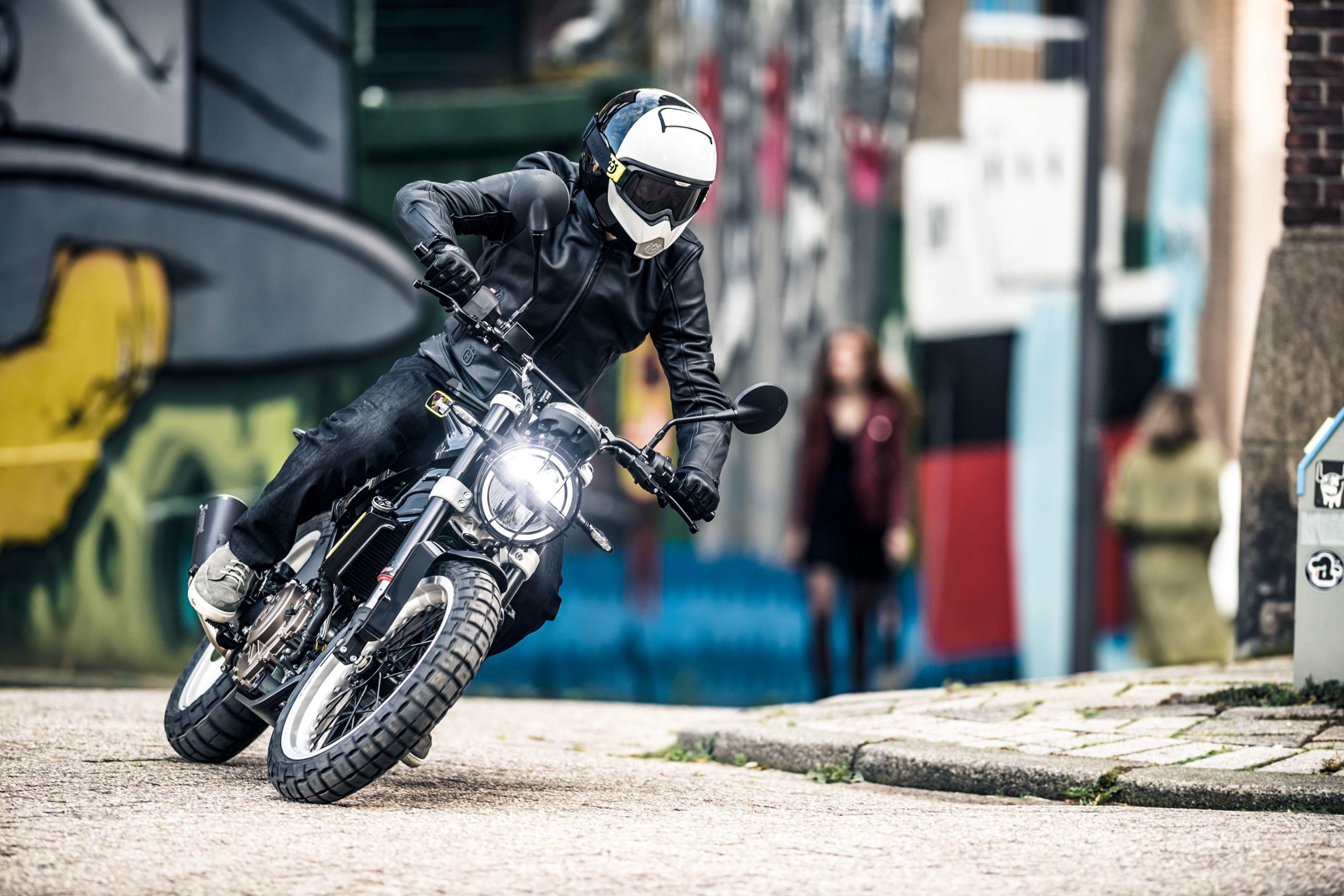 Styling
You're not going to mistake the Svartpilen 401 for anything else, are you? Husqvarna has managed to walk a line that not many other motorcycle manufacturers have. They've managed to make the Svartpilen look both like it came from the future, while also referencing styling cues from the past. 
The large single headlight is key to this styling and it features LEDs for its running light, low and high beam and manages to both work and look a treat. The tail-light is equally high-quality too, with the LEDs reflecting off opaque plastic to give a solid red glow. This attention to detail and feeling of quality runs right through the bike, from the back-lit switch blocks to the matte silver spoked rims. In truth, it feels like a $12,000 bike. Funny, that.
The floating bodywork is split into just four pieces and is covered in glossy metallic paint that somehow manages to scratch if it's looked at wrong. This is particularly annoying up where your knees contact the tank and is the reason behind the fairly average looking knee guards fitted to my bike. The matte white paint of the Vitpilen looks much better than the gloss black of the Svartpilen and at least you wouldn't be able to see the scratches as much. 
Apart from the paint's seeming ability to scratch when sneezed on, the only easily visible cheap spot is the dash. While it's compact and functional, it's just a bit shit to look at. The basic LCD display is at odds with the Svartpilen's KTM relative, which features a top-quality TFT-based screen to display the basics. The benefit of the Svartpilen's compact size is that the dash is completely invisible when riding normally, with a serious head nod needed to check your speed and remember how shit the dash looks.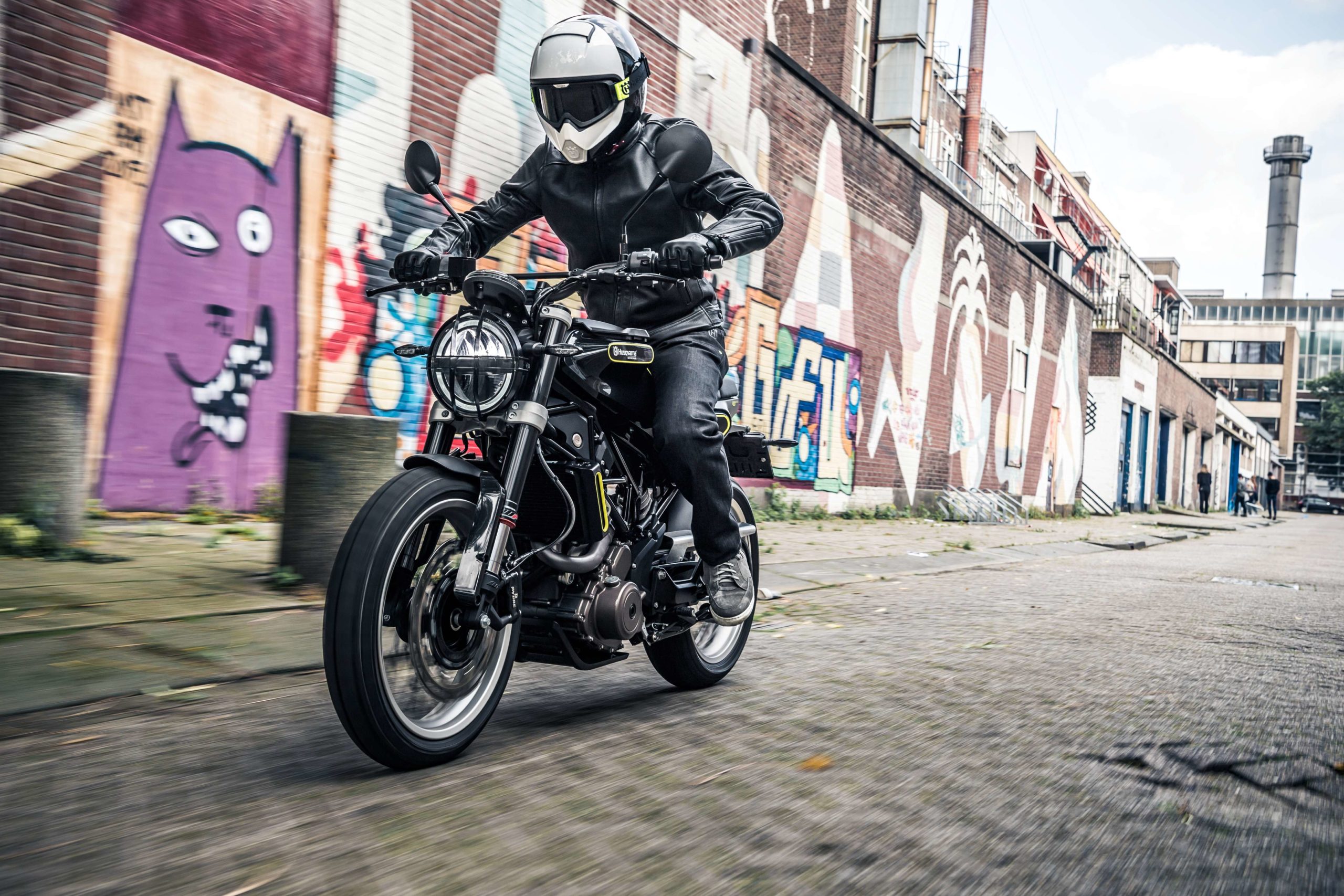 Riding it
It's good — really good. The overwhelming impression of the Svartpilen is that all the ingredients, while not particularly flashy, work together to make this bike seriously fun. It's not going to tear your arms off under acceleration but it will hit 160km/h without too much effort and will handle most kinds of riding without complaint.
The handling is a real stand-out though. The bike is so quick to turn in that the first time I tipped the little Svartpilen into a corner, I had to stand it back up and reassess the situation. The steep rake (25 degrees, or the same as a KTM 1290 Super Duke R), short wheelbase and relatively tall and skinny front and rear tyres go some way to explaining the quick tip-in. While the initial corner tip-in is sharp, the bike settles on the side of the tyre well and the soft suspension deals well with everything but the worst of Australian roads. Even the chunky looking Pirelli Scorpion Rallys (the same tyre fitted to Ducati's Scrambler Desert Sled) hold on well. The chunky tread only makes itself known when riding at walking pace or coming to a stop, and they suit the bike's scrambler vibe so well that this is an easy quirk to live with.
Let's address that scrambler comment. While this isn't a bike that will take you up the toughest single-track, it will handle an off-road adventure or two. In honesty, it's not even a bike that will take you up a particularly hard track. I've tried, and the Pirellis instantly clog-up with mud and left me going nowhere fast. It does, however, have suspension that will handle rough roads, some engine protection and so little weight that it feels willing to go where you point it. Let's not forget that traditional scramblers were road bikes, stripped of weight and sent into the desert. They weren't doing what they were designed to do, they were doing what their riders asked of them and the Svartpilen definitely does that. 
There are a couple of things to be wary of when riding the Svartpilen though — its seat and fuel gauge. Both are about as useless as each other for a surprisingly similar reason. They're not that good at their jobs. The seat is fine for short trips, which is what the bike was designed for if we're honest. Anything over half an hour or so and the sharp edges of the seat will be making themselves known to your inner thighs and the general lack of padding will be on a first-name basis with your butt cheeks. It's to be expected but be warned. 
The fuel gauge and its distance to empty function is like a tired toddler. Everything's fine until suddenly, it's not. I've been riding and seen the distance to empty go from 30km to 120km in the space of 100m. This isn't a great feeling when you realise the Svartpilen has a 9.5L fuel-tank. While it's light, it'd still be heavy to push. Luckily the bike doesn't drink much and I've regularly pushed 180+km from a tank.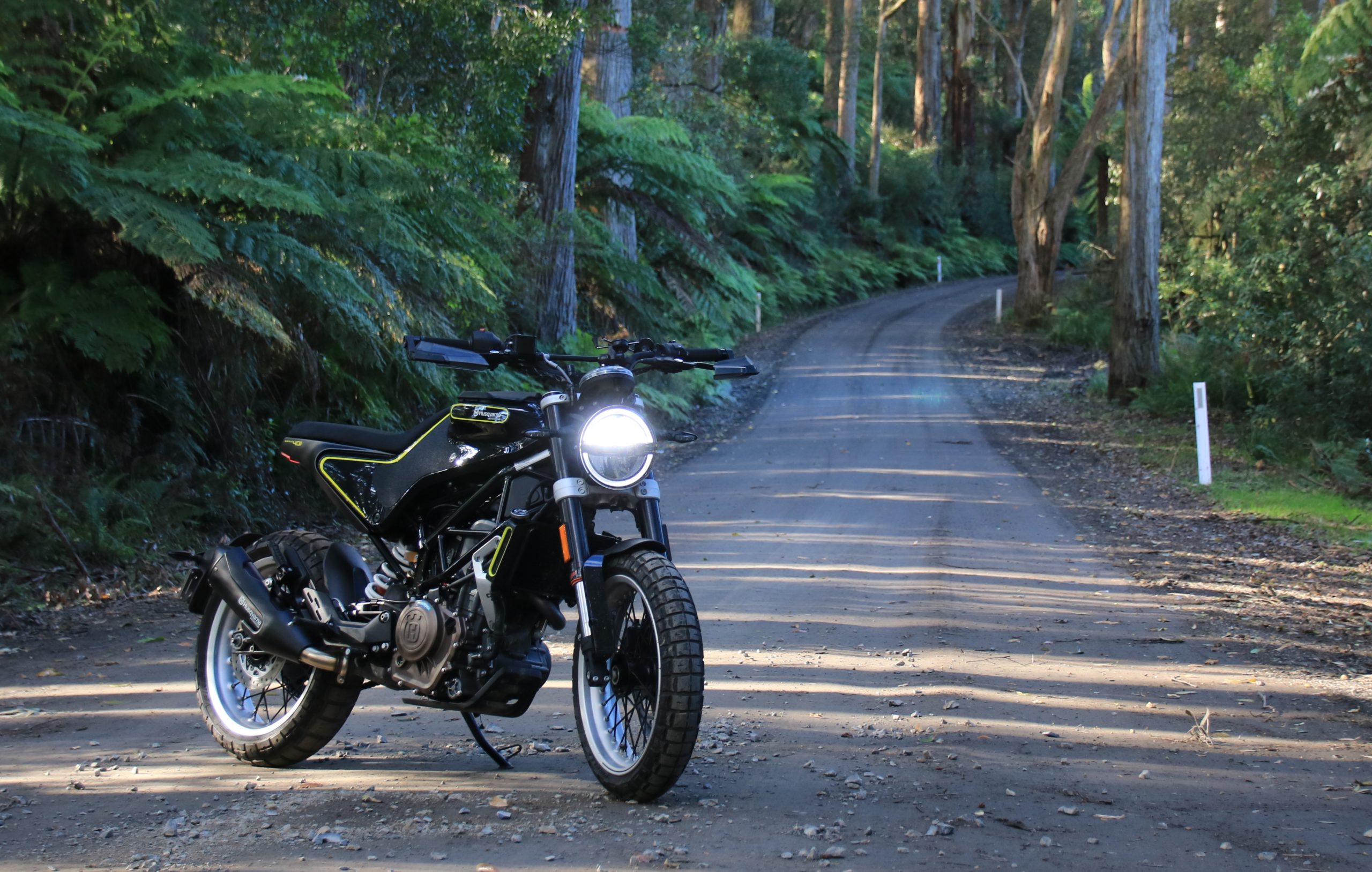 Wrap it up
Husqvarna's have been other people's great bikes in a 'Swedish' set of clothes since BMW purchased the brand in 2007. BMW's efforts didn't make much of an impact, which makes the current fleet of road bikes released under KTM's ownership all the more impressive. The Svartpilen 401 is a more stylish, simpler version of a KTM. It's more ready for fun than ready to race and is all the better road bike for it. While some people will feel that a 400cc single isn't enough for them, the truth is that for me at least, a bike that will easily 'crack the tonne', cruise at highway speeds, drag footpegs through the corners and handle a fire-trail or two is just about perfect. The fact that it looks this good is just the icing on the cake.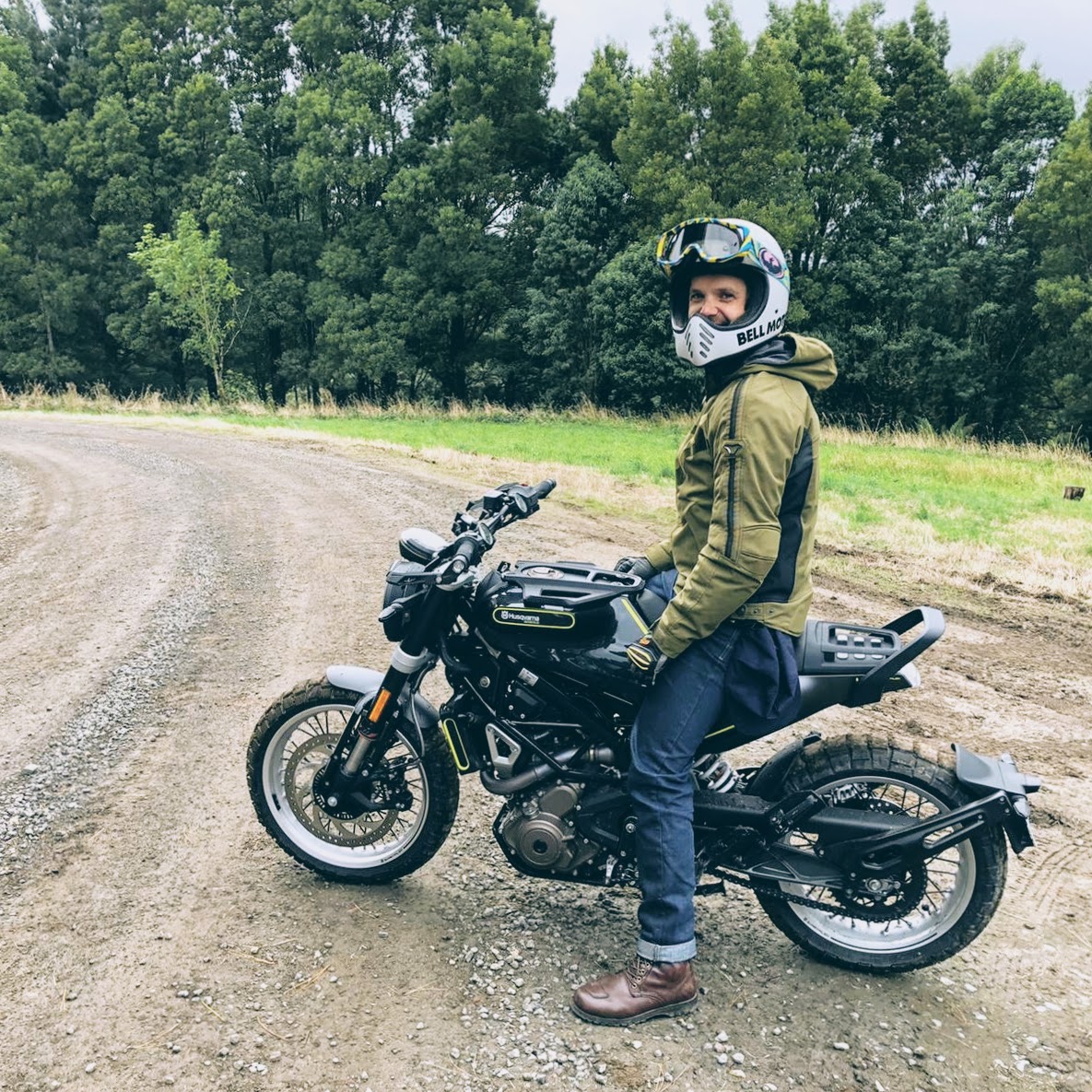 Raph May
Raph's been riding motorbikes since he was old enough to muster up the courage to tell his Mum he'd bought a motorbike. A qualified light vehicle mechanic, Raph turned his attention to the world of media and communications and sold out to the corporate world over 10 years ago. On the plus side, this move to a suit has allowed him to 'spin spanners' as a hobby and create motorbike and car content on the side. Raph's ideal motorbike hasn't been found yet, but having owned almost 20, he's well on the way to finding it.