The ones that keep the Kommune wrenching
Your new moto-mates, here to help.
We couldn't do what we do without our team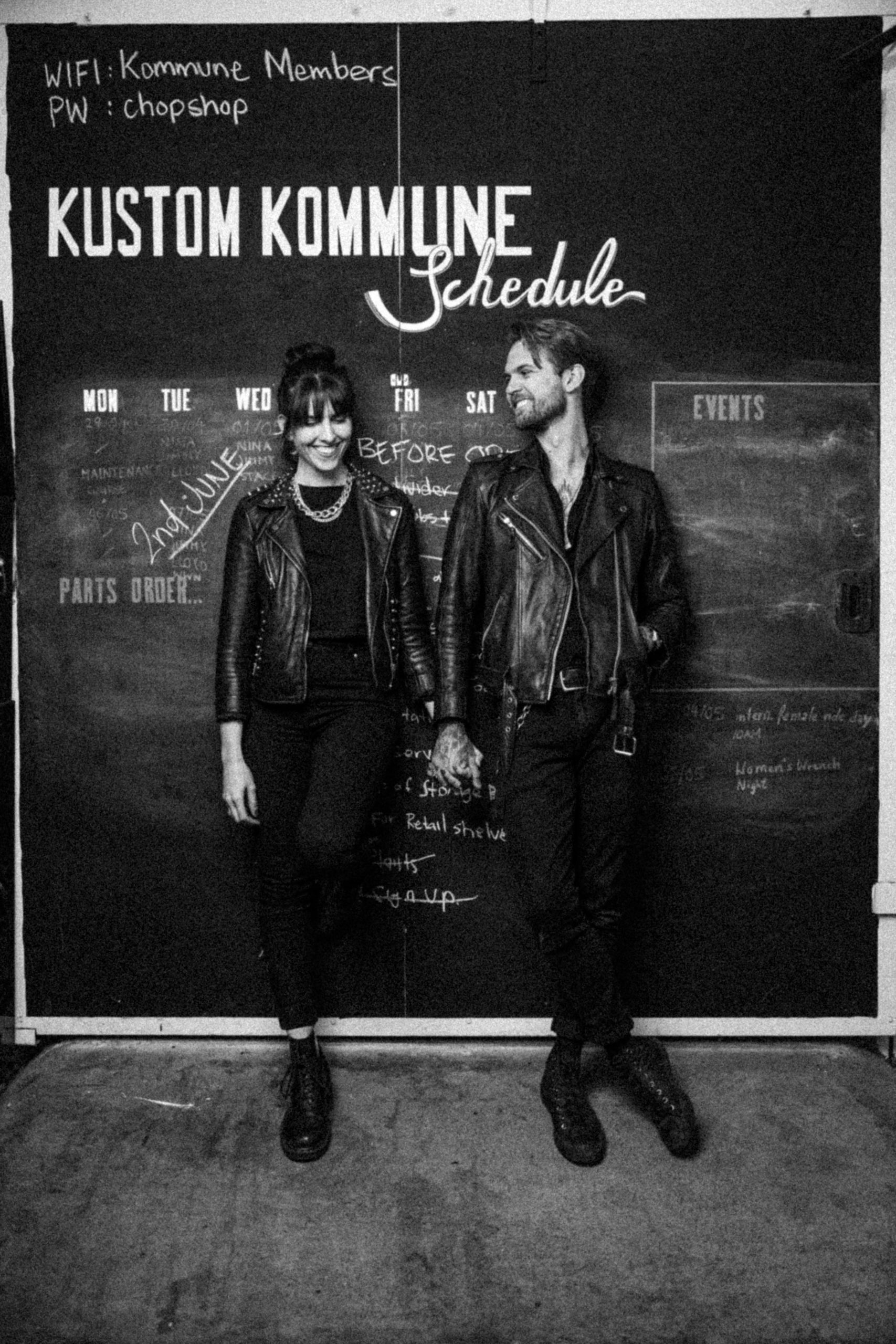 Fuelled by the passion of bringing people together and for the the love of two-wheels.
Kustom Kommune was founded in 2013 by Jimmy Goode, a concept born out of necessity from living in inner-city Melbourne and having very limited space. Jimmy was  looking for his tribe of like-minded moto crew and found it increasingly difficult to get advice from professionals when it came to repairing or modifying his bike. The idea of Kustom Kommune came from conversations with others in the same situation, seeking the same things and facing similar problems. The concept of a community first space, where people could learn from one another, share tools and space, was born.
Fast forward to today and Kommune has become one of the leading DIY Motorcycle communities around the world and is now run by Jimmy and his wife, Nina, plus a team of incredible voluteers.
Kustom Kommune was originally crowdfunded on Pozible.com in 2013.
We've come a long way, baby!
Kustom Kommune is run by a group of dedicated volunteers that are passionate about motorcycles and the surrounding community.
Why get involved at Kustom Kommune as a Volunteer?
Kustom Kommune takes values from social enterprise and we aim to create a safe, welcoming and accessible space for everyone. By volunteering a small piece of your time to help keep the space operational, not only will you learn new skills and help shape the space, you'll be making a direct impact on a very social community. It's not just about motorcycles at Kommune, its about creating lasting networks and providing a third place for many.
Just like our members, some of our volunteers are mechanical geniuses, and some are still learning the basics – you gotta start somewhere, after all. Regardless of your experience, we welcome everyone to get involved. We'll always have knowledgeable voli's around, but if you're keen to get skilled, have a crack!
UPSKILL
By joining the volunteer team you're constantly surrounded by rad folks that aren't just experienced in the workshop, but are also involved in the moto industry. Join our courses for free, work alongside experienced wrenchers, and soak up all that greasy knowledge.
COMMUNITY
Everyone at the Kommune is your mate, and it's the volunteer team that drives this notion. Get to know the crew beyond a greeting, help shape the community and learn some leadership skills alongside like-minded people.
CONTRIBUTE
Kommune is shaped by the volunteers. Our voli team meet up regularly to discuss how things are rolling, what cool shit has been happening, what changes should be made, and what the future of Kommune looks like. Make your mark.
BENEFITS
Helping to make a positive impact on Mental Health in the community. Learning new skills and genres discounts on all Parts & Consumables at cost price. Complimentary Training Courses and Discounted storage.
Interested in becoming a Volunteer?