Description
Welding & Fabrication Course
Introduction to Welding and Fabrication Course is one of our most popular courses and books quickly, so don't miss out!
Course time: 6:30pm – 10:30pm
Class size: 8 (paired up)
Course type: Hands-on with some theory
This one-night course covers the basic theory of welding, with specific instruction on MIG, TIG & ARC welding and angle grinding.
Information covered includes Safety, Machine set up, How to weld with each specific technique and understanding whether a weld is sound or not.
Practical instruction will consist of fillet welds, butt welds and corner welds, using each type of welding process. If you want to tack on a bolt, make a seat pan, weld up gussets, attach two pieces of metal together or understand the black magic surrounding welding, this is the course for you!
You don't need to bring anything with you, everything needed is provided, including drinks and snacks!
Do wear enclosed footwear, long sleeves and non-synthetic clothing. Please note the course is limited to 8 attendees per class and you will be teamed up in pairs.
Instruction will be carried out on demo bikes and you won't be required to bring your own motorcycle. Feel free to bring your ride in for bike-specific questions though!
If you have any questions, don't hesitate to contact us.
Drinks and snacks provided.
Meet your welding & fabrication trainer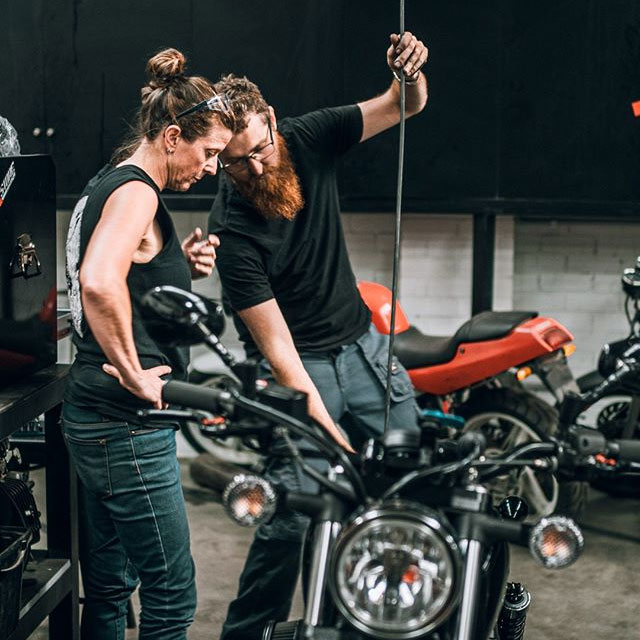 Luke
Metalworks & Fabrication
You have an idea? Luke can make it happen. New seat hoop? Done. Subframe? Yep. Eight-wheeled turbo monstrosity that shoots flames and seats one? You got it.
Luke's your man when you need it built, and built right.
Run by a group of dedicated volunteers that are passionate about motorcycles and the surrounding community, Kustom Kommune provides all the tools, equipment and networks you need to work on your motorcycle (or another project). Service, maintain, customise, restore, learn or just hang out! Best of all, everyone's welcome no matter what you ride or your level of experience.