Description
Kicking off a Custom Motorcycle Build Course
Course time: 6:30pm – 10:30pm
Class size: 10
Course type: Theory heavy with lots of Q&As.
What's the difference between a Brat and a Café Racer? Or a Tracker and Scrambler? What's the legalities of recrafting a subframe? What do I do with all my electrics? So many questions! Don't worry, we'll help you build a plan of attack in the Kicking off a Custom Motorcycle Build Course.
This is the perfect course for someone looking to kick off their first project.
In this theory based course, we'll show you the basic design principals and tricks of the trade to help you plan your custom project. We'll cover off on topics such as:
Starting points – Making sure your base is solid
What to look for when sourcing a bike for a custom project
Basic RWC requirements – What guidelines should you work to?
Modifying subframes – Is it legal and design principals
Custom seats and different styles
Replacing your electrics – what that involves
Suspension & Fork swaps – What do I need to consider?
Tyres & Wheels – Things to consider when choosing form over function
Parts sourcing – Where do I start?
Blasting and parts cleaning – Should I blast my engine as a complete unit?
Plus loads more.
This is a heavily Q&A based course and we encourage you to bring images of inspiration for you build, so we can help you plan that dream project.
If you have a project (that is running) you can bring it in and we'll get it up on the hoist to use as a demo for the night. This is limited to 4 Bikes for the night.
Instruction will be carried out on demo bikes and you won't be required to bring your own motorcycle.
If you have any questions, don't hesitate to contact us.
Drinks and snacks provided.
Meet your Kicking off a Custom Build Course trainer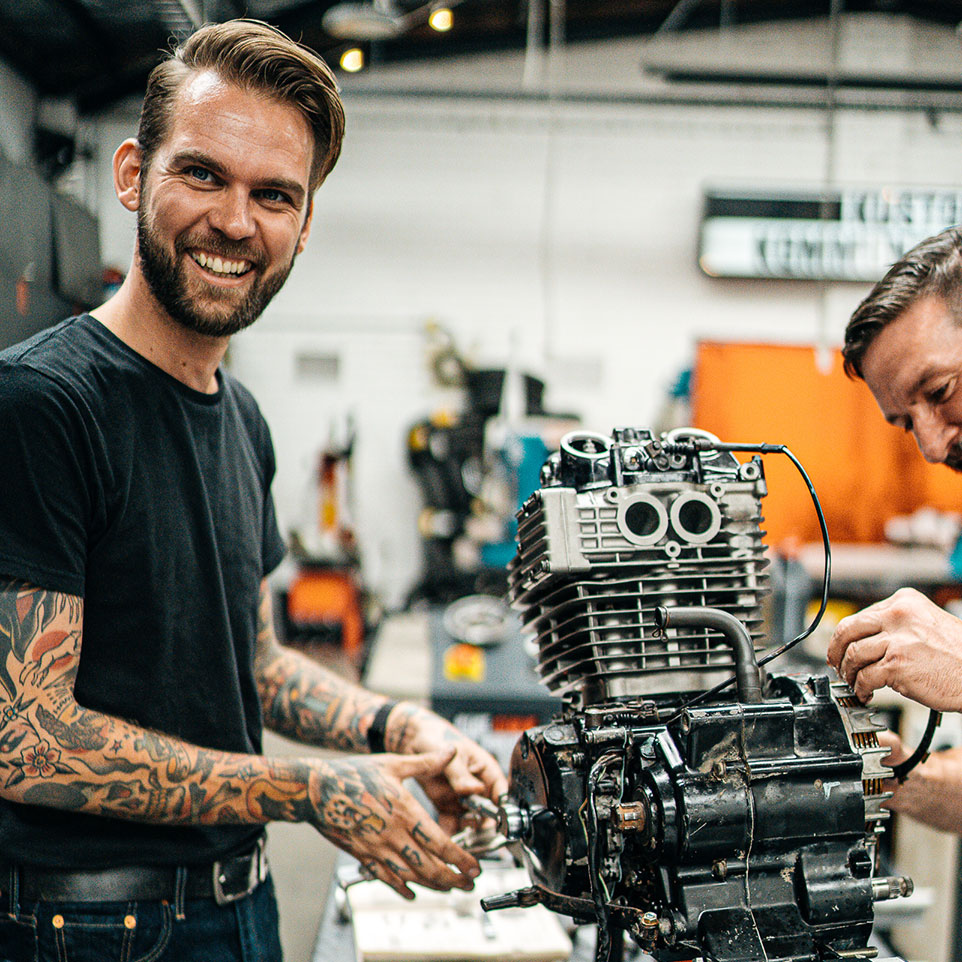 Jimmy Goode
KK Founder & Director
If you've been to the workshop, you've probably met him already - father of a thousand projects, Jimmy bring knowledge of almost every facet of moto-building to the table.
Run by a group of dedicated volunteers that are passionate about motorcycles and the surrounding community, Kustom Kommune provides all the tools, equipment and networks you need to work on your motorcycle (or another project). Service, maintain, customise, restore, learn or just hang out! Best of all, everyone's welcome no matter what you ride or your level of experience.