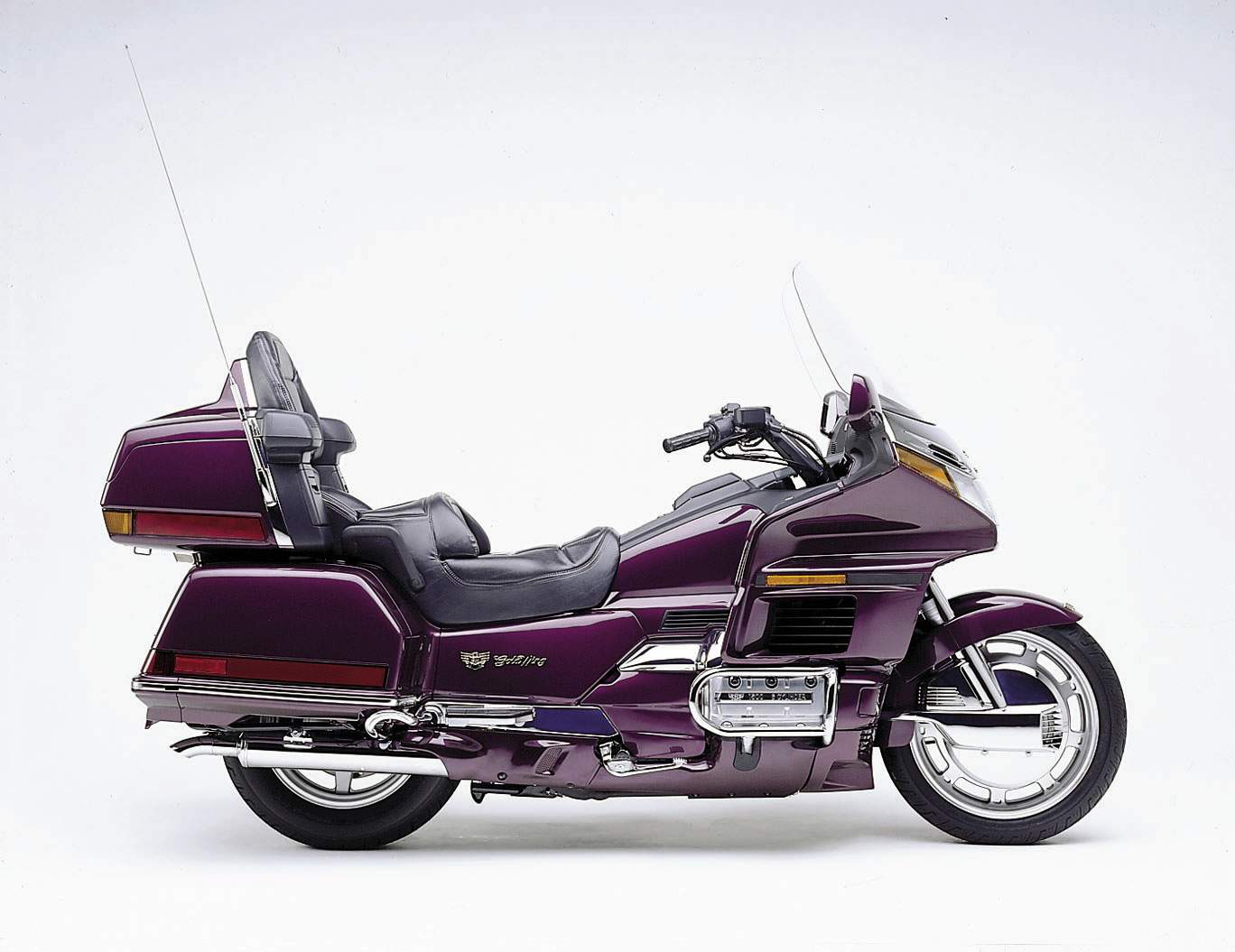 When we kicked off this series, one of the things we told you we'd do was find the most bike for the least money. While it's still early days, we're pretty sure we can tick that goal off the list with this 1994 Honda GoldWing. In exchange for just $6000, you could be riding away with a 1520cc flat-six engine in a bike that is – wait for it – 2.6m long, 1m wide and has a 1.7m long wheelbase. For reference, our GoldWing is almost half a meter longer than a BMW R1200GS with a wheelbase that could swallow an entire Honda Grom.
Honda GoldWing land yacht $6000
1994 Honda GoldWing (GL1500). Low KM (55,000) GoldWing with new pads all round, new battery, new front tyre and fresh fluids throughout.
CHECK IT OUT
While a GoldWing isn't the natural choice for anyone who's not upset about Alan Jones retiring, it's a bike that will transport you, a passenger and luggage, almost anywhere in ultimate comfort. As our COVID-19 lockdown eases and road trips look set to become possible again, surely the appeal becomes clear.
The good bits
The GL1500 GoldWing was released in 1988, at a time when motorbikes were predominately air-cooled nakeds. Instead of following the same recipe, Honda threw a fully-faired (including the front brakes), liquid-cooled motorbike into the mix that looked more like a spaceship than anything anyone had ever ridden before. It was a motorbike so far ahead of its time, that other manufacturers didn't bother competing with it for decades. Here was a motorbike that had the same power as a GSXR750 superbike of the day, but combined that with a radio and what were essentially lounge chairs for two. You haven't really known comfort on a motorbike until you've spent time on a GoldWing. 
Our GL1500 was the first time Honda gave GoldWings a silky-smooth flat-six, with flat-fours powering the previous lounge chairs on wheels since its 1975 release. The 1520cc flat-six pushed out an untroubled 100hp and 150Nm of torque, which traveled through a 5-speed gearbox and a shaft-drive. This set-up would eventually push a GL1500 up to around 160km/h – all while the rider's supremely protected by acres of screen and fairings.
Surely the best bit about these GoldWings though is just how good they are at doing what it says on the box. This is a bike that pioneered the idea of an 'adventure bike' before the term referred to a bloated, overweight dirtbike. It was a bike that was designed to take people as far away from their home as they wanted to go, all while carrying what they needed, listening to Alan Jones…or whatever music they wanted.
While a GoldWing's not for everyone, our advice is don't knock 'em 'till you've tried em. They're also fairly good at doing things that aren't listed on the box, as you'll see further on.
Below: The GL1500 flat-six in all its glory
The not so good bits
The GoldWing's biggest downside is the largest figure on the spec-sheet – its weight. Weighing in at over 350kg, these bikes are so heavy they've been known to affect tides when parked too close to the ocean. They're so heavy, they're the only bike we know of with a reverse gear, because no one's pushing one of these things the wrong way up a hill. 
The bike's massive weight intensifies other issues, like the slightly shit suspension (featuring a rear air-shock, fed by a dedicated compressor just to add some more weight) and the front brakes that are easily overwhelmed by the heft. While no one looks at a GoldWing and sees a corner carver, the fact is that these big 'Wings can surprise you with their turn of speed – just don't expect them to be composed while they do it.
Another not so good bit is working on one of the plastic-clad monsters. Our featured GL1500, while being a technological tour-de-force of the day, is actually carb'-fed. Good luck getting to that fuel system if it needs any work. Not only is there an acre of plastic fairing to remove, being from the '90s those panels will be brittle and waiting to break in the most inconvenient place possible. Luckily, it's a Honda from the '90s so anything other than general maintenance will be a rare occasion.
There's plenty of custom GoldWings around, but they're mainly based on the earlier flat-four GL1000/1200 bikes. We've included a few below for your viewing pleasure and while they are pretty, we've chosen to feature some relatively stock GoldWings of a variety of years and models being misused for your pleasure.
'Dos Honduras' motocross GoldWings
Any bike's a dirt-bike if you have the inclination and/or talent to keep them on two wheels in the slippery stuff. This decision is on the riskier side when you decide to take a GoldWing off-road because you'll have to pick 300+kg of bike up after you inevitably drop it.
Brushing this risk, and the associated back injuries aside, the Dos Honduras boys (Zak and Kyle) of the US' Washinton State, have only gone and taken two 1980s (the earlier 4-cylinder variants) GoldWings and turned them into motocross bikes. Now when we say turned them into motocross bikes, we really just mean used them as motocross bikes because these flying turds are pretty much stock.
The boys picked the GoldWings up from a property that was being cleared and then proceeded to add some radios, cup holders, KC lights and Kenda Big Block tyres. After this, they called it a day and then sent them off massive jumps. See what we mean below
The boys haven't just thrown the GoldWings off jumps either – they've done ADV rallies, toured on them, and even used them to transport their dirtbikes. If this isn't proof that we all need a GoldWing in our lives then we're afraid you might have come to the wrong place.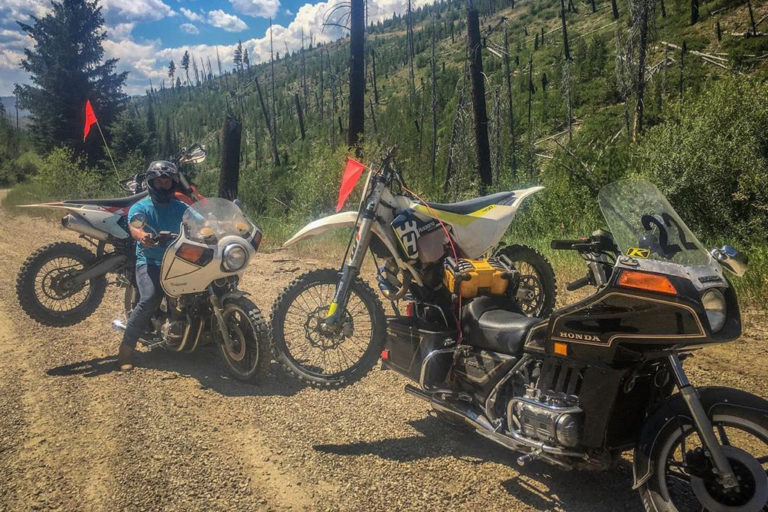 On Two Wheels GoldWing 'track bike'
Keeping in the spirit of using the wrong tool for the job, we stay in the US with Zak and Ari of On Two Wheels. The video below sees the boys pit a 2018 GoldWing against BMW's K1600 – on the road where they belong and on the track where they certainly don't. It's not a bad video to watch in its entirety if you've got the time, but we've cued it up for you to see these two whales being thrown around Laguna Seca Raceway. Just to level-up on the danger front, Zac and Ari decide to go two-up on their laps, and perhaps the most surprising thing is, the GoldWing didn't suck.
If you've made it this far, then you probably want a GoldWing now and we don't blame you. The only thing standing in the way is finding somewhere to park all 2.6m of its plastic glory.